I resurrected this site after it lapsed for a couple of years, so my apologies to anyone who has been looking for it. I enjoyed corresponding with people from all over the world while it was up. Arcebus is still going strong after fifteen more sailing seasons since the dated pictures that you see here. She's seen three more trips to the Voyageurs, three extended trips on the Mississippi, many outings on Lake Minnetonka, and brief excursions on many other Minnesota lakes, including Lake Superior. I've thought about trying to keep the sailing log up to date, but it would become repetitive and the existing photos do a pretty good job of representing the boat and the type of use that I've gotten out of her.

Arcebus has proved to be a good camp-cruising sailboat for the larger lakes and rivers in Minnesota. I began designing and building her in December of 2003 and launched her in June of 2005. I would describe her as a mutant 18' Nutshell Pram (the Nutshell Pram is a 7' 7" Joel White dinghy made famous by Wooden Boat Magazine), sporting a Jim Michalak-type walk-through cabin and two Michalak-type pivoting leeboards.

She's easy to trailer and rig, weighs around 1,000 pounds, draws about 6 inches, is fast under sail and 5 horse outboard, offers shelter from sun and weather as well as plenty of outdoor lounging area on decks and rooftop, and has a soft, quiet ride in big waves. With her nearly 8' beam and 12' cabin, she has an amazing amount of room for passengers and gear. You can read much more detail about her by clicking on the Arcebus Design and Construction link. The purpose of the Arcebus Log is to keep a record of the fun tiimes I've had sailing her with family and friends.

Grandpa Greg,
Master and Commander

Recent Video: Breezing along on Lake Minnetonka


Lake Pepin, June 4-5, 2005


First Time in the Water: overnighter with daughter, Krista, at the Midwest Messabout, Lake Pepin, MN, June 4-5, 2005.
The first annual Minnesota Messabout on Lake Pepin was the perfect occasion for Arcebus' first taste of the water. Lake Pepin is a 21 mile-long, 2-3 mile wide stretch of the Mississippi above a natural partial dam deposited by the Chippewa River. This event was organized by Bill Paxton and drew more than a dozen fellow builders. We all had a terrific time admiring each other's work and sharing rides. The launch was more exciting than I planned -- as I was backing down the ramp the latch on the trailer winch let go and Arcebus literally dove in with a big splash. I was greatly relieved to find no damage done, and that she floated perfectly on the same lines as my model with no need for ballast. We had plenty of wind that weekend, so it was a good opportunity to test both her sailing ability and and her ability to handle waves. She did very well on both counts.
My daughter, Krista, finds her spot


Accommodating a happy crowd -- passengers here are on aft deck, fore deck, cabin roof, standing in cabin, and (unseen) sitting on interior benches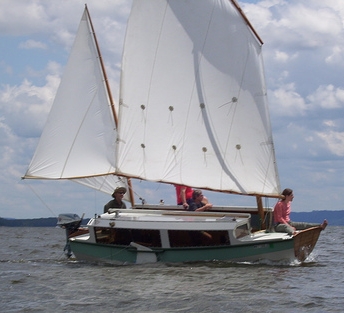 Arcebus on the beach next to a Weekender
Looking forward / looking aft
My gimballed stove worked great! I concocted this with some old skateboard wheels, copper pipe, and scrap 1/8" aluminum.
Packed up and ready to load for the trip home -- what a great weekend!
With the Grandkids on Lake Minnetonka
I live about a mile from Lake Minnetonka in the Twin Cities, so it's been a frequent destination for day trips and one-night campouts. The first outing was a week after the Lake Pepin launch. My daughter, Carrie, son-in-law Jeremy, and grand-kids Annika and Camilla were in town so they, Great-Grandma Margaret, auntie Krista, and wife Pam -- 8 in all -- came out for a cruise.
My wife's mother has a cabin on Lake Koronis in west-central Minnesota, so we took Arcebus with us and just anchored her off shore. We had a good wind every day (although apparently not when I took these pictures), so I got to learn a lot about handling her under different conditions.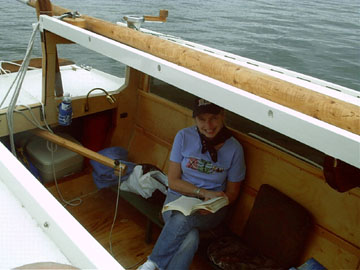 Working the yuloh
Lower St. Croix to Mississippi, July 2005
My son, Aaron and I take a river trip every year, and our favorite destinations have been the St. Croix and the Mississippi rivers. Last year we voyaged about 30 miles from Taylor's Falls down to Hudson Wisconsin in a kayak and my Gypsy (a sailing/rowing skiff designed by Phil Bolger). This year, we used Arcebus to cover the final leg from Hudson to the Mississippi. We camped a few miles into the Mississippi and sailed back the next day. The St. Croix's magnificent scenery includes a gorge with spectacular rock formations near Taylor's Falls, a shallow, wild, fast-flowing section below Taylor's Falls, and a sudden widening of the river near Stillwater into nearly mile-wide cruising grounds with inviting sand banks and scenic bluffs. You can camp just about anywhere on the upper section of this stretch, but as we discovered on this trip, the lower section is packed with ridiculously large power boats and virtually every sandbar is posted as the exclusive domain of one boating club or another. Why people want to go back over and over again to the same sand bar is beyond me. Anyway, the wide, relatively straight section from Hudson to Prescott makes for excellent long-distance sailing.
We headed south from Hudson into the teeth of a 15-20 MPH wind. I'm sure we sailed well over twice the 15 mile distance from Hudson to Prescott as we tacked back and forth into the wind. Near Prescott, we finally started up the motor and headed down the Mississippi a few miles to find a spot for the night.
Aaron tacks back and forth to windward.
Relaxing on the old Mississipi
Aaron takes a snooze while we race back upstream behind a strong tailwind. The trip back was quick, indeed. We put a reef in the main and retired the mizzen as winds reached a steady 35 MPH with gusts up to 43. In a 4-mile long, mile-wide section below Hudson we broached once. The side windows were immersed all the way to the top, but we popped right back up. After that I discovered that quick shoves of the tiller were very effective in preventing broaches.
Before hauling out, we had to try raking the mast forward to rig a rope swing. It worked great!
Voyageurs National Park -- Aug. 23 - 26, 2005
Eight years ago, we rented a small housebout in the fabulous Voyageur's National Park. This area lies right on the Minnesota/Canadian border, just west of the Boundary Waters Canoe Area. It offers the same scenery as the BWCA, but the lakes are on a much larger scale and motor boats are allowed. I saw no sailboats up there, but I knew that the next time I went up I wanted to sail. I designed Arcebus with the Voyageurs specifically in mind. Therefore, a Voyageurs cruise was number 1 on my list of "must do" trips for the first season.
Luckily for me, my daughter and her husband were interested in celebrating their anniversary with a "love boat" cruise. I persuaded them that Voyageurs was the perfect spot and off we went.
We towed a couple of kayaks behind for excercise and fishing. Here's Krista at the landing at Crane Lake entry point.
The narrow channels connecting Crane Lake with Sand Point Lake and Sand Point Lake with Namakan Lake are beautiful.
The first night, we stopped at Mukooda Lake, a spring-fed lake that is reached via about a 200 yard portage from the landing. Krista and Erik camped there and I anchored out on the boat. Here Erik tries his new water filter.
Mukooda campsite on a smooth-rock shore
Crystal clear water -- so clean, the rocks weren't even slippery. I put windows in the bottoms of my kayaks and this was a good place to enjoy them.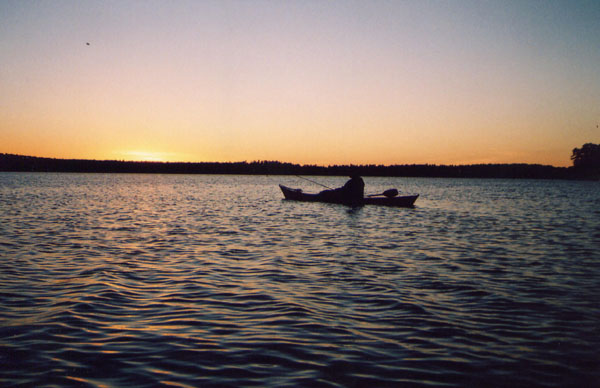 The next day we sailed wing and wing behind a 20-25 MPH wind with a double reefed main. I was able to monitor our speed on my new GPS. Despite hauling a full load and towing 2 kayaks we hovered around 6.5 MPH, hitting peaks of 7.2 MPH. Arcebus' estimated hull speed based on waterline length is 5.5 MPH, so we were really flying.
Narrows between Sand Point and Namakan
We checked out about 7-8 island campsites on Namakan, but all were taken. We finally found one on the eastern shore. The site was up on a "bench" of land so it had a great view.
It had a nice dock with a lovely view at water level as well.
The next day we left the camping gear and kayaks behind and set out on a day sail to the western end of Namakan Lake. Here we pass Gull Island, white with bird guano.
Eric hauls in a big one in a channel between islands (he wishes)
I find that I do most of my steering with my legs as I sit on the transom or stand in the boat. I position the ice chest underneath, which provides a nice foot rest/step-stool. I steer from inside with the tiller extension when I want to get out of the sun or weather. Sometimes I just let the boat steer herself by adjusting the two sails until they balance. The other night I set course for a channel on Lake Minnetonka, set the sails, and threaded the needle three miles later without touching the tiller.
Emerging from my "tent" in the morning. The bugs were almost nonexistent because of an early frost so most nights I left the cover off and watched the stars. I have screening and flaps that I use in the openings when necessary. I slept in luxury on a queen-size air mattress in the boat.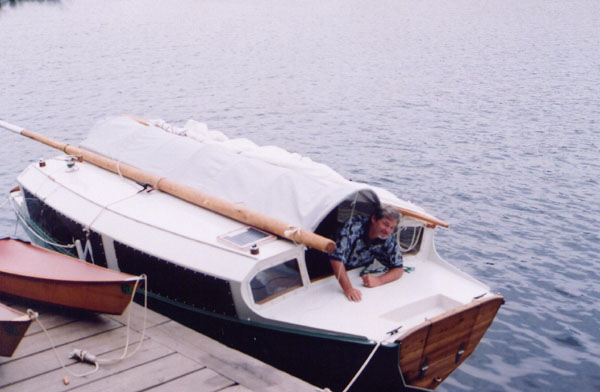 Doesn't this look refreshing?
The Voyageurs is a terrific place to sail! We motored on the trip back because it was straight into the wind and also when we were going through the narrows and on a few other occasions, but we burned less than 5 gallons of gas in over 60 miles of voyaging.
I've made many more trips to the Voyageurs in Arcebus. Here is one of my favorite photos taken by my daughter from a power boat in 2019 alongside the Grassy Bay cliffs.




Lake Pepin Again, September 23-25, 2005

My son, Aaron and I headed out for Lake Pepin for a three-day cruise -- possibly the last overnighter of the year. This time we focused on exploring the lower part of the lake and the place where the Chippewa River deposited the natural dam that created it. We launched near Lake City and made the 12-mile trip to the lower end of the lake tacking back and forth into a 15-20 MPH breeze.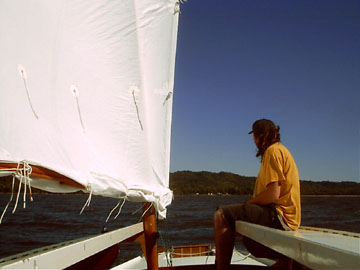 Admiring a classic wooden power boat.
The little town of Reed's Landing sits at the lower end of the lake. The building with the cupola is a school built in the 1870s.
Looking up-river at the natural dam and the start of Lake Pepin.
Aaron relaxes with a good book after a long day of sailing.
The next day, we head up the Chippewa River. With the heavy overcast, we had an erie feeling, like we were heading into the jungle.
Aaron finds a deep spot while poling.
As we tried to position ourselves to make it between the closely-spaced pillars of a railroad bridge, we ran aground on rocks. The boat, moving fast in the strong current, came to a sudden stop -- pitching Aaron over the bow and into the water for an unexpected swim. Later I found that the rock had done some damage, cutting through the dynel fabric and fracturing some of the plywood on the joint between the bottom and the garboard plank. Fortunately, it was not difficult to repair -- she's now patched up as good as new.

Thanks alot, dad.
We had a torrential downpour all night that night.accompanied by thunder and lightning. We later heard that it measured 5-6 inches. It was good to have a roof over our heads, although there was some dripping where the support arcs were in contact with the canvas.
Sailing through clouds on the way back.
New addition to the crew -- grandson Hans.
A few other outings with friends on Lake Minnetonka
I managed to get a few pictures of other outings with friends on Lake Minnetonka.
Rebeca, Chris, Pam, Cheri.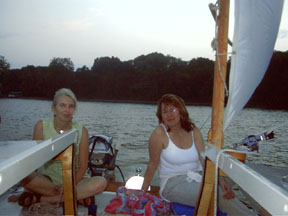 Phil Winger -- Urban Boatbuilder's boat building instructor takes a rare rest with his wife, Karen.


My mom and step-dad, Bill.
Technical Review -- How did she perform?
It was pretty foolhardy for me, a rank amateur, to undertake this project. All I can say is that while reinventing the wheel may be stupid, it's a heck of a lot of fun. I've always enjoyed pretending that 10,000 people haven't already figured things out before I get to it. Here is my best effort to do an honest assessment of Arcebus' strengths and weaknesses.
Strengths:
Joel White's Nutshell Pram is a great hull form. Even when stretched to 18 feet, it's easily-driven, rides great in the waves and has a graceful appearance.
The walk-through cabin concept is a real winner, combining the freedom of an open boat with the interior space found only in very large boats. The huge cabin, combined with the lounging areas on the decks and the cabin roof can comfortably accomodate 10 people or more. Restless people like me have all kinds of choices for moving about and repositioning.
The sail rig is very easy and quick to put up. Where I launch on Minnetonka I have to go under a low bridge before I can put the sail rig up. I like the fact that I can easily put it up and take it down while on the water.
The boat is very stable and has proven itself to be self-righting when knocked over. I think that the extra weight I put in the leeboards helps a great deal.
The foil shaped rudder provides noticeable lift and Arcebus will occasionally get up on plane. I can't say whether the airplane wing profile that I gave the leeboards helps, but it certainly does not seem to hurt.
The gimballed stove is a pleasure to use for cooking and the fore and aft decks provide handy counterspace for cooking.
Arcebus moves very easily and efficiently under power with my 5 horse outboard. My box-type motor mount, which slides up and down on aluminum channel irons has worked beautifully for raising and lowering the motor.
The drop-down door/ramp I put on the front transom is very handy for getting in and out of the boat when beached.
Weaknesses:
Because of the complex hull shape, I'm not sure that there is an optimal location for the leeboards. I tried to place them at the point of maximum beam, but the angle of the upper plank is quite different than the angle of the garboard, and it looks like the leeboard creates some drag due to being out of line with the flow of the water. Arcebus might have been faster with a centerboard, but I think it is worth a slight sacrifice in speed to have an open cabin.
Arcebus balances perfectly in moderate winds and can generate enough lift to get up on plane in strong winds when on the tack where the lug sail is on the windward side of the mast (i.e. pressing against the mast). However, with the sail on the leeward side of the mast, the balance shifts enough so that there is some lee helm in light to moderate wind. Even in stronger winds, I can't get enough weather helm to get lift from the rudder and she is considerably slower on this tack. The next year after launching, I moved the starboard leeboard forward about 4 inches. I think it may have helped a little, but I'm not certain.
One of the leeboard retaining slots fractured a few years ago when sailing fully loaded on a windy day on Lake Pepin. And the second blew out on the same lake two years later. Originally constructed out of several layers of relatively low-grade plywood, I replaced the broken parts with pieces of black locust. I would advise anybody who is building a Michalak-type leeboard retaining slot for use with a large leeboard to make sure it can withstand a lot of stress. After 10 years of use the leeboards aslo began to show damage from stress and from water infiltration near the pivot bolt holes. I was able to salvage them by drying them out over a couple of months, sealing the pivot hole with copper pipe embeded in epoxy, and reinforcing the leeboards with 22 oz. triaxial cloth. Copper sleeves and a heftier layer of fiberglass sheathing in the original construction would have prevented those problems.
Arcebus' big cabin catches a lot of wind and she moves pretty fast even without sail or power. She can be a little bit challenging to maneuver in windy conditions. The yuloh works OK if there is hardly any wind, but it is not possible to bring her around into wind under yuloh alone. Douglas Brooks (who is something of an expert on yulohs, having apprenticed with Japanese boatbuilders) suggested lengthening the blade. Since the yuhloh wouldn't fit inside the boat if it was any longer, I experimented with adding a hinged 3 foot extension. It provides more power, but there really is not enough room within the walk-through slot to swing it in full strokes.
All in all, I feel lucky that things worked out so well. I always feel the urge to go somewhere in her and I'm looking forward to many years of cruising and exploring.
E-Mail me, if you like. (lindburly@comcast.net)